RH/RHS CONTROL VALVES
The AZ plug valves can be used as a control valve. The flow characteristics of these special valves can be defined by the shape of the plug passage design. You can choose from several plug designs to create the requested flow, plug design 'L' (linear percentage) or plug design 'P' (equal percentage). Pneumatic actuators with positioners by Samson, Siemens, Foxboro-Eckhardt, etc. are normally used for the control application. Electrical actuators are also available for these special valves. Please contact us for more information about these special valves.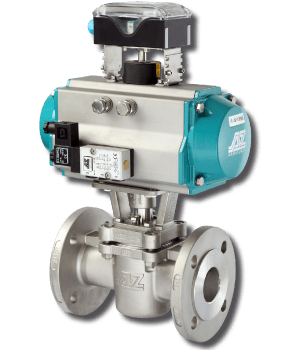 FM-100 MANOMETER
The AZ manometer plug valve is one of our special valves that is available in two sizes: DN15 / 1/2" or DN25 / 1", pressure classes available DIN PN40/ ANSI 150 and 300Lbs. The standard connection for the manometer is G1/2" (1/4" or other connections on request). Manometer valves are supplied with locking facilities for padlock or lead-seals and a bleed facility. These special valves can also be supplied with a testing connection M20-1,5. Please contact us for more information about these special valves.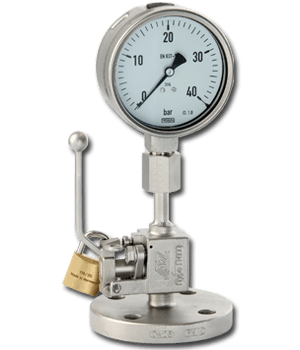 BMH SPECIAL VALVES
Pipe systems in chemical and petrochemical plants are usually cleaned with flushing fluids such as water, steam, air or nitrogen. After the flushing process it is necessary to depressurize safely. For this purpose AZ has developed the "BMH" valve. The special plug design with positive overlap is specifically designed to close the flushing fluid supply and at the same time depressurize the downstream flush line automatically with just a 90 degrees turn. Please contact us for more information about these special valves.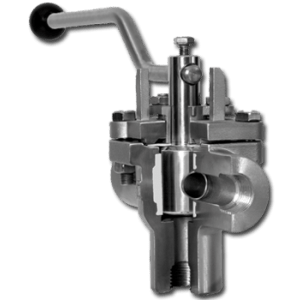 DBI PLUG VALVES
This AZ plug valve is one of the special valves produced by AZ for "Double block & Bleed" and "Inspection-service". This type of AZ plug valve can replace the traditional "Block and bleed" systems, consisting of 2 two separate "block" valves with in between the "bleed" valve and the so-called slabbed lift plug valves. The AZ DBI valves can be delivered with a single bleed connection, but also one or two inspection connections.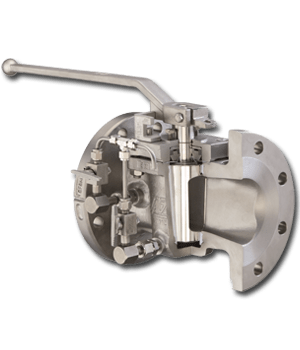 SINGLE OR DOUBLE FLUSH VALVES
These AZ plug valves from our line of special valves come with a flushing connection (on request with plug valve), for cross-flushing. Single (SP) or Double flush (DSK) valves can be used where mediums tends to deposit sediments, stick, harden, crystallize or polymerize. For example tarrying products, bitumen, sulphur, VC + VCM, UREA and more. These mediums have a tendency to stay behind in a closed plug passage, which could then lead to a total blockage of the valves. This problem can be prevented by plug bore cross-flushing with a suitable flushing liquid. Cross-flushing is also used to separate various liquids from each other or to prevent contaminations. We have several types of flush connections in our line of special valves. Please contact us for more information about these special valves.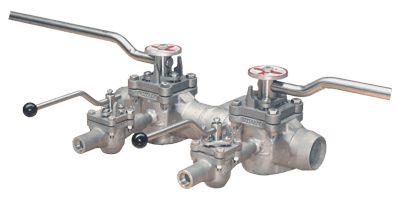 LOCKING DEVICE VALVES
AZ-plug valves can be supplied with several types of locking devices. Customers can choose out of three types of locking devices:
Padlock eyelets. The padlock is fixed and closed on the body and wrench in the respective end position, through both eyelets. Locking devices are available on request for open, closed or both positions.
Pilot valve combinations. The main valve cannot be opened before the pilot valve has been opened.
Raster-pin interlock system. All AZ multiport plug valves can be supplied with a raster-pin interlock system to secure the plug position. The operating plug position is indicated by a position indicator.
Please contact us for more information about these special valves.
Where possible AZ Benelux BV will do its best to meet the specific demands of the customers. Our product range of special valves is of the highest possible quality and undergoes constant updating according to rules or customer demands. Most of the AZ products are available in both DIN and ANSI standard. Please contact us for more information about these special valves.
Other "engineered products" can be made as well. Please contact us with your questions and together we will do our best to find a solution.
If you have any questions, or require any further information regarding our special valves please contact one of our Technical Sales Managers. Fill-in our application form, or call direct at +31 (0) 252-674878.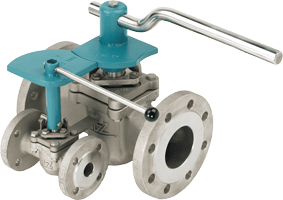 GET ACQUAINTED WITHOUT OBLIGATION?
Please feel free to contact us and help you to find the needed valve for your appliation.