AZ Benelux BV can supply two types of cross-over combination:
Type SAVA (combination for safety relief valves)
All AZ plug valves used in the cross-over combinations have a cavity-free design and a maintenance-free self-lubricating sleeve. They are easily adjustable, have long durability, a CE marking according to PED 97/23EG Cat. 3 module H and they are TA-Luft 2002 approved.
CROSS-OVER COMBINATION TYPE UK:
Cross-over combinations, type UK can be used as a switch-over valve for cooling and heating systems, pump systems, safety valves, duplex filter systems or reactor systems. All places where it is important that both inlet and outlet are switched at the same time.
Almost all types of AZ cross-over combinations are inter connectable, in different nominal sizes. Therefore there is an almost unlimited amount of possible applications.
Our cross-over combinations can be supplied as manually operated (with a lever or gear, depending on the valves size) or with actuator.
In cross-over combination type UK-L the valves are only connected by the stem. By type UK-V the bodies are also connected with steel fixation strips to ensure the correct position.
CROSS-OVER COMBINATION TYPE SAVA:
Cross-over combinations type SAVA are specifically designed for safety relief valves. The AZ cross-over combination type SAVA consists of 1 or 2 full bore 3-way valves type EXTRA, to ensure a minimum required flow during switching from "safety valve A" to "safety valve B". This ensures an "always-ON" overpressure protection of the system.
Where possible AZ Benelux BV will do its best to meet the specific demands of the customers. Our cross-over combinations are of the highest possible quality and undergoes constant updating according to rules or customer demands.
MATERIALS CROSS-OVER COMBINATIONS
Standard AZ valves can be supplied in ASTM/DIN materials: A216-WCB/GS-C25, A351-CF8M/1.4408, A351-CF3M/1.4308, A351-CF8/1.4409, A351-CF3/1.4309, A395 (GGG40.3). In addition to these standard materials we can also supply the cross-over combination valves in almost every possible cast material, like Hastelloy, Duplex, Super Duplex, etc.
If you have any questions regarding our cross-over combinations, or require any further information regarding our cross-over combination valves please contact one of our Technical Sales Managers. Fill-in our application form, or call direct at +31 (0) 252-674878.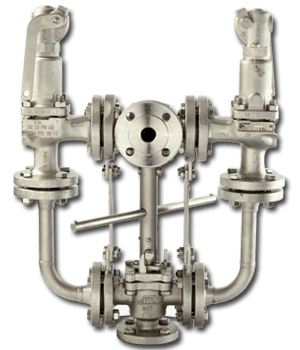 GET ACQUAINTED WITHOUT OBLIGATION?
Please feel free to contact us and help you to find the needed valve for your appliation.